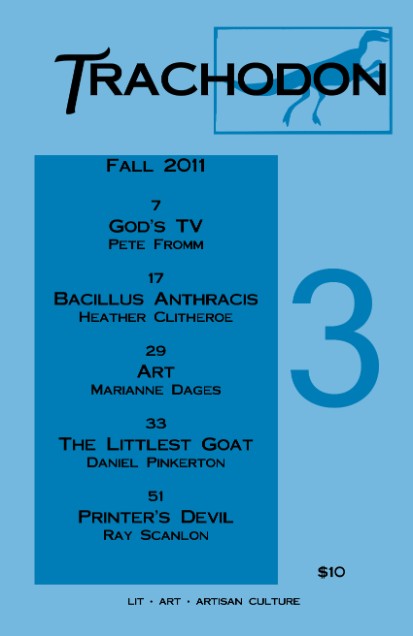 TRACHODON 3
Fall 2011
Fiction
God's TV
Pete Fromm
Bacillus Anthracis
Heather Clitheroe
The Littlest Goat
Daniel Pinkerton
Nonfiction
Printer's Devil
Ray Scanlon
Art
Mixed Media
Marianne Dages
Trachodon 3 features literary writing by some of today's most engaging authors. In God's TV, a new story by Pacific Northwest Bookseller Award favorite Pete Fromm, a husband stands on the brink of fatherhood and looks into a future that's at once bright and impossible. Heather Clitheroe takes us into the mind of a clinical scientist and reveals a compellingly disordered view of the world. And In The Littlest Goat, Dan Pinkerton offers a portrait of a family man paralyzed by a fear of bridges, and over a homecoming weekend, peels back the layers to expose deeper fears that we all carry. In Printer's Devil, an essay on artisan culture, Ray Scanlon recalls his summer apprenticing in a print shop when moveable type was still the industry standard. A portfolio of mixed-media visual art by Marianne Dages rounds out our third issue.
Contributor Bios

Heather Clitheroe lives and works in Calgary. He work can be found in the Evolve and Awkard Two anthologies, Kaldeidotrope, and Hobart. People sometimes describe her as a germaphobe. She feels she is simply germ aware, and would be happy to discuss the dangers of bean sprouts and unwashed hands. Try her. Go ahead. Try her.
Marianne Dages is a bookbinder and letterpress printer who lives and works in Philadelphia, Pennsylvania. She received her BFA in Photography from The University of the Arts in Philadelphia. In 2008, she was awarded the Core Fellowship at Penland School of Crafts in North Carolina where she studied printing, bookbinding, and papermaking for two years. She has been making books, prints, and other ephemera under the name Huldra Press since 2007. She is currently working on a variety of projects in her studio, including the restoration of a Chandler & Price printing press, which she documents on her blog, huldrapress.blogspot.com
Pete Fromm is a four time winner of the Pacific Northwest Booksellers Literary Award for his novels As Cool As I Am and How All This Started, a story collection, Dry Rain, and memoir, Indian Creek Chronicles. As Cool As I Am was filmed this summer, starring Claire Danes and Sarah Bolger, and will be released in 2012. He is the author of four other short story collections and also wrote the screenplay for the film adaptation of his short story, "Dry Rain," and another original film, "After All This." He is on the faculty of Oregon's Pacific University's Low-Residency MFA Program, and lives in Montana with his family.
Dan Pinkerton lives with his family in Des Moines, Iowa. His fiction has appeared in Quarterly West, Washington Square, Northwest Review, Arts & Letters, North American Review, Crazyhorse, and the 2008 Best New American Voices anthology.
Ray Scanlon was born, grew up, and lives in Massachusetts. He has grandchildren, extraordinary luck, and is pretty sure he could write a book, if only he had something to say. His web site is oldmanscanlon.com.